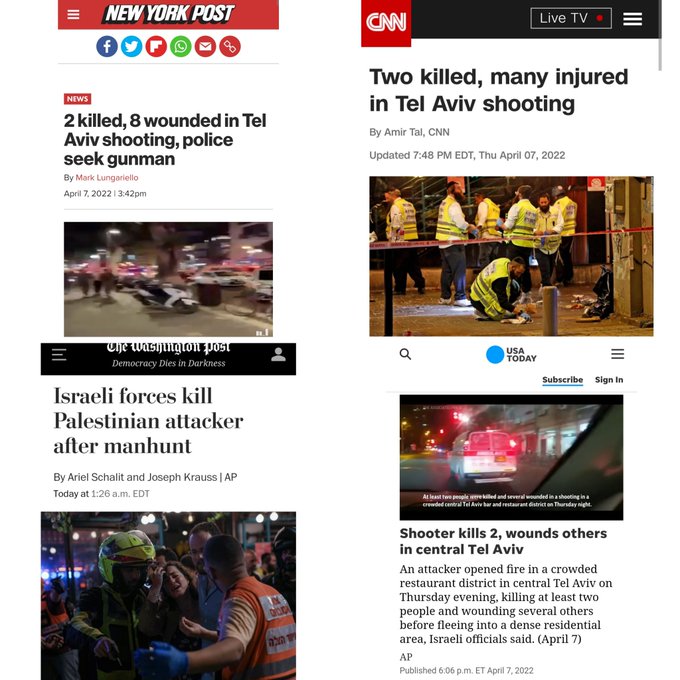 HEADLINES MATTER – If you did not know the real story you would not get it from these headlines. A terrorist walked into a restaurant in Tel Aviv, Israel and started murdering Jews. Three died and a dozen more were injured. His motive was to please the god of Islam as a special offering during Ramadan. Gaza and other Palestinian cities celebrated three innocent civilian Jewish deaths with fireworks and handing out candies to honor their "sweet victory." The father of the terrorist even celebrated his own son's death.
Tel Aviv attack: Father of assailant praises son's actions – 'Victory will come soon, in the coming days you will see the change. You will be free and independent.' He is reportedly a former senior officer in the Palestinian national security establishment.
Three of these headlines do not mention Jewish victims and do not use the term: "terrorist." The fourth is the worst. It makes it sound like Israel murdered a Palestinian during a manhunt. Israeli headlines say something more like this: "Terrorist Eliminated After Murdering Civilians in a Restaurant."
These new deaths now make fourteen Israelis murdered in four different Israeli cities in the last two weeks. There is a major rise in terrorist attacks. It is worse this year because of the convergence of Ramadan, Passover, and Resurrection Day all at the same time. Pray seriously for Divine protection for Israel in the next two weeks. Pray that these threats will turn the hearts of many to the living God of the Bible.
"The name of Yehovah is a strong tower; The righteous run to it and are safe." Proverbs 18:10

"Yehovah's promises are pure, like silver refined in a furnace, purified seven times over. Therefore, Yehovah, we know you will protect the oppressed, preserving them forever from this lying generation, even though the wicked strut about, and evil is praised throughout the land."  Psalm 12:6-8 NLT
Pray for the peace of Jerusalem, and pray for rain in Israel.
Les Lawrence, a voice of Christian Zionists              (Read more)