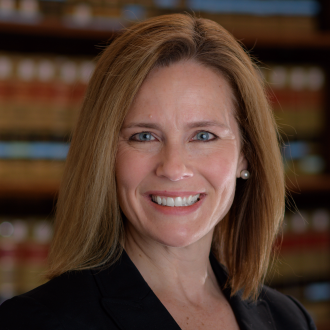 Should we always demand justice? I have a few words today about justice in general and Amy Coney Barrett in particular. Yes, I know the President has the virus, but I trust the Lord to raise him up. The Supreme Court vote is even more critical now.
Since we have a daughter named Amy, I know that the name means "beloved." But I believe the Lord spoke to me that He has a special love for Amy Coney Barrett and that she has been raised up for this hour like the Bible hero Esther.
"For if you remain completely silent at this time, relief and deliverance will arise for the Jews from another place, but you and your father's house will perish. Yet who knows whether you have come to the kingdom for such a time as this?" Esther 4:14
Should we always demand justice? To answer the question simply: No. The world today is clamoring for "justice" and they do not know what they are demanding. The Bible is clear that "all have sinned and fall short of the glory of God." Also, that "the wages of sin is death." (See Romans 3:23 and 6:23). Therefore, when we demand justice we demand death. May I suggest that it is better to ask for mercy and forgiveness which has been offered to all through the blood sacrifice of Yeshua the Messiah as the Lamb of God.
Sometimes, after explaining this, I ask an audience to raise their hands if they want justice. Then I ask how many want mercy. Of course it is unanimous for mercy, when put that way. I only wish we could get through to the confused protestors about the mercy of Yehovah God.
Yet, in society there must be swift judgment for evil doers. That is where our court system comes into play. We need righteous justices to rule according to our constitution and our Judeo/Christian Biblical heritage. Please pray for Amy Coney Barrett's soon confirmation.
And pray for the peace of Jerusalem and rain in season in Israel.
Les Lawrence, Voice of Christian Zionists                 (Read more)